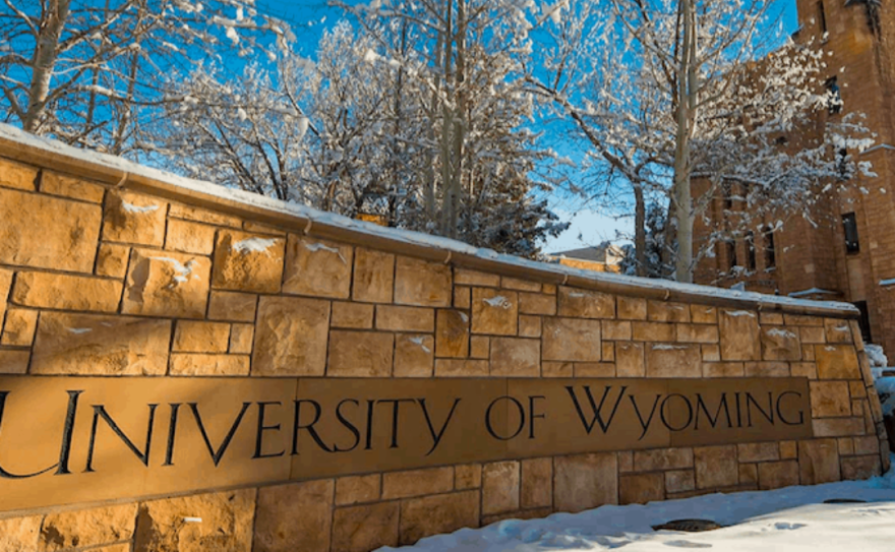 Blockchain, cryptocurrency initiatives gain momentum at UW
LARAMIE — The state, city and University of Wyoming are putting more of a focus on some of the newest areas of technology that some hope will become a major economic stimulator for the Cowboy State: blockchain and cryptocurrency.
On the heels of state legislative efforts to make the state more friendly to an emerging industry, UW began teaching courses in blockchain three years ago and opened its Center for Blockchain and Digital Innovation the following year. Its director, Steven Lupien, says the impact of the technology on future generations could be akin to that of the internet.
"There's virtually nowhere at UW that's not going to be touched by blockchain," Lupien said.
In simple terms, a blockchain is a data sharing system that operates by sharing information between multiple computers or groups of computers. The information is stored in groups known as "blocks" that are linked to one another.
The technology is widely known as a recording and security system for digital currencies such as bitcoin, though it also could have important applications in the fields of education, ranch management, emissions tracking and health care, Lupien said.
Since 2017, the state has opened the door for cryptocurrency development, passing at least 24 laws meant to open up the sector and ultimately giving Wyoming a reputation as the "Wild West" of cryptocurrency, according to Fortune.
The changes came largely from the advocacy of Caitlin Long, a UW alum who also happened to be Lupien's wife and CEO of Avanti Financial Group, a cryptocurrency banking company.
Cryptocurrency has been known to be extremely volatile with dramatic changes in value, which has some concerned about its security and reliability. Bitcoin has been known to fluctuate by 30% in just one day, according to Forbes.
Others, like Long and Lupien, hail it as a groundbreaking financial investment that will help bring jobs to Wyoming and fill in the gaps left by the state's fading coal industry.
At UW, blockchain and cryptocurrency initiatives are gaining momentum. The university has already established itself as a leader in the area as the first Division I university to offer a degree program in digital assets and the first to have bitcoin miners on campus (there are now 12).
Last month, the university received a gift of $645,000 from Ripple, a leading cryptocurrency and blockchain company.
The money, which is to be disbursed over three years, will create a Ripple Blockchain Collaboratory on campus that will be housed within the Center for Blockchain and Digital Innovation. The new sector will include students from the College of Law and College of Engineering and Applied Science who are interested in learning more about cryptocurrency, blockchain and cybersecurity, according to a press release.
The initiative gets the university and state one step closer to their goal of using the industry to make more money, Lupien said. It also benefits companies in the industry that are looking for cities with skilled workers and the infrastructure necessary to set up their operations.
"(The industry) wants to build the infrastructure it needs to be successful," Lupien said.
He also hopes the growth can curb the number of students who get a technological degree at UW and immediately leave the state in search of a job.
"It's about jobs and opportunity for Wyoming," Lupien said. "We need to embrace the companies that are coming here and we need to embrace the workforce."
The Laramie Chamber Business Alliance also sees potential in the sector, though the group has focused on recruiting tech companies that lean toward intellectual property and infrastructure rather than the act of data mining itself, said President Brad Enzi.
There are no cryptocurrency or blockchain companies located in Laramie now, but some use blockchain technology in a start-up capacity, Enzi said.
One technology company with a data mining aspect considered locating in Cirrus Sky Technology Park, a tech business area in Laramie.
The company required access to more power than was available at the Laramie location, causing it to choose Pine Bluffs after signing a letter of commitment for the local lot. The area was originally expected to have more than 70 megawatts of power available, but some of that electricity was reserved for other uses before the company could reserve it for itself.
Enzi shared this information with Laramie City Council during a meeting May 24, noting that lack of sufficient infrastructure caused the city to lose out on an economic opportunity as the company would have brought new, good-paying jobs to the area.
The electricity issue came as a surprise to City Council members, some of whom also were relieved the company chose to locate elsewhere
"I feel like there's a real disconnect between our stated goal to reduce power emissions in the city of Laramie and bringing in a company that uses (so much power)," said council member Erin O'Doherty. "I can't get too excited about bitcoin mining and data mining and stuff that is going to increase our carbon emissions."
The technology trend data website Digiconomist predicts that one bitcoin transaction consumes 2,221 kilowatt hours of electricity — the same amount an average U.S. household would use in 76 days — and emits 1,239 kilograms of carbon dioxide.
The energy usage of cryptocurrencies comes from the methods used to lend them their value. Cryptocurrencies undergo one of two possible complex verification processes: proof of work or proof of stake.
The largest energy consumption comes from proof of work methods, which require supercomputers to race around the clock to complete exceedingly complex math problems, Lupien said. Each time a problem is completed, a piece of cryptocurrency is created and a block is added to the blockchain, where the transactions are stored. Bitcoin is the most well-known cryptocurrency that uses this system.
Other currencies use the proof of stake method, which can be completed on a normal household computer and consumes less energy.
In addition to concerns about pollution, cryptocurrency mining centers across the nation have garnered complaints from residents about noise pollution caused by the industrial fans used to cool the supercomputers.
While Enzi didn't outline any specific environmental or community considerations the Laramie Chamber Business Alliance uses when recruiting companies to the Gem City, he did say the group only recruits companies that would operate within state and local regulations.
The city of Laramie allows for cryptocurrency and other tech companies as long as they follow the rules and regulations already written into city ordinances. The companies would only be allowed industrial zones and would undergo a review process, said Planning Manager Derek Teini.
"Almost every single one of the crypto companies is looking to be able to purchase a cleaner, greener power," Enzi said. "There are companies that use a lot of power but are still buying green."
Lupien said that while currencies that use the proof of work method do bring up concerns of energy consumption, the industry is moving toward greener verification methods.
"I believe Wyoming needs to embrace this asset class," Lupien said. "This is the way the world is going."